A natural stain remover for all kind of stains
Flex Cleaner
Remove the stain in 90 seconds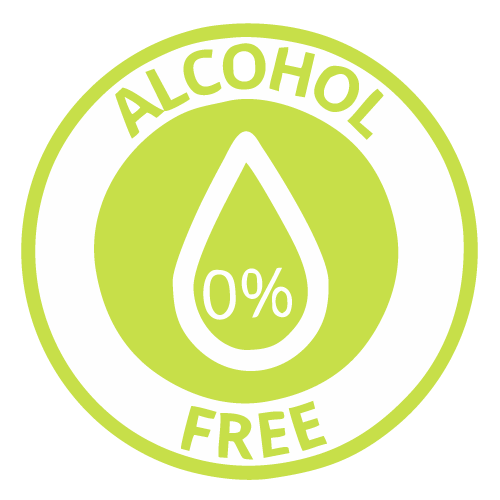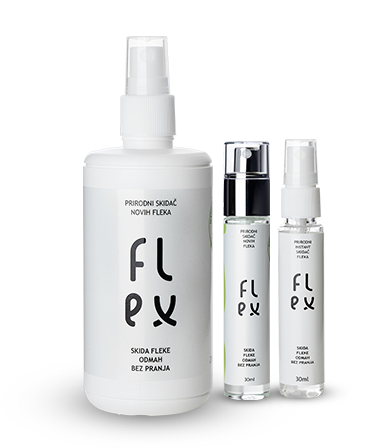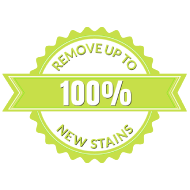 One second is enough to stain your favorite pants, shirt, or skirt. You spill coffee while driving a car, smear yourself with powder, or simply rush to answer the phone and create chaos. Those moments can ruin everything.
You are not in a position to change, and most of us panic and react to the worst possible solution – we try to erase the stain and only smear it even more. Then we spend the whole day with that awkward stain, and we know that everyone sees it.
After that, the favorite clothes usually end up in a bucket and only because of one ordinary stain. How many times has something like this happened to you?
You can avoid all this situations with Flex Cleaner
in just 90 seconds!
As soon as the stain forms, spray it with Flex Cleaner, rub in and the stain disappears.
An effective stain remover will literally remove the stain in front of your eyes. Here's what it looks like:
It's simple: Remove the stain in 4 steps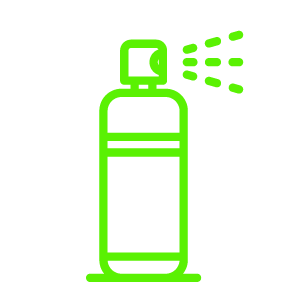 Apply Flex Cleaner
Spray the stain with the Flex so that it covers the stain completely
Rub the Flex Cleaner into the stain until it is removed
Wipe the place where the stain was with a wet cloth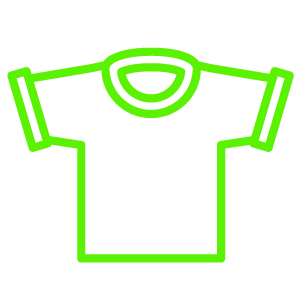 The stain is gone
Continue your day with a smile
Black, white or colorful
– it doesn't matter:
One unique product solves
all the problems.
You no longer have to spend money on different products for white, black or colorful clothes.
Flex Cleaner works on any fabric (clothes, furniture, car).
One 30ml bottle of Flex Cleaner will save 100 bad situations with the stain
When the sweets start to hurt
You must have at least one piece of clothes stained with the chocolate. Trying to remove the stain, the stain becomes bigger and you start to get annoyed. When you realize that the stain will stay there forever, you have no choice but to throw your favorite clothes in the trash.
Flex Cleaner helps you remove stains from chocolate, wine, powder or oil as soon as you stain, without any additional washing.
It's simple – Flex Cleaner only takes a few seconds to completely break the stains down and make them disappear.
Take a look how to remove a chocolate ice cream stain without washing the clothes:
The best of all:
Flex Cleaner is completely natural
Unlike other products that use a variety of chemicals and bleaches, Flex Cleaner is a completely natural water-based stain remover with amphoteric and anionic surfactants in floral water.
That's why moms like it on the child's wardrobe – they can remove the stain as soon as it occurs, whether it is during a walk, in the playroom, or in the park, without worries and hassles about changing clothes.
Flex Cleaner is a certified and award-winning product

Flex Cleaner has all the necessary certificates (ISO and HACCP) which prove that it is a natural product that does not harm people or the environment. This product was developed by world-renowned technologists in our modern laboratory.
They tested it on 150 different types of stains, until they came up with a solution that is completely natural and that removes stains from all fabrics, even wool. That is why the Flex Cleaner formula is kept in strict secrecy.
Flex Cleaner also won the prestigious Organic & Natural Brand Leader Award 2021. Recognition in the category of ecological and natural products presented Flex Cleaner as it is – completely natural and so powerful.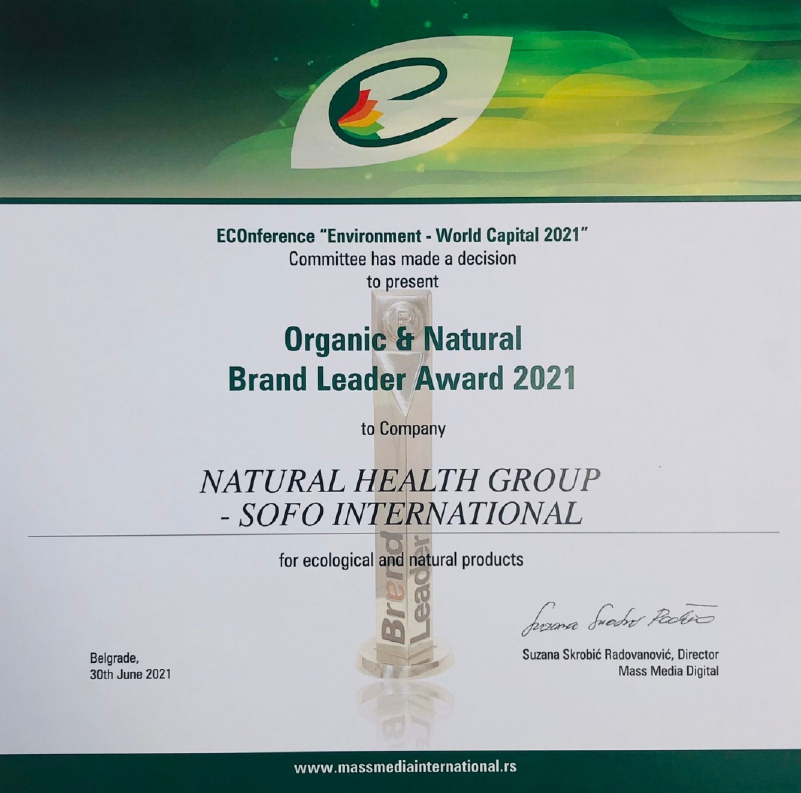 Frequently asked questions

Does it remove the color from the fabric or damage the fabric?
Not! FLEX does not contain bleaches and aggressive chemical compounds that damage the fabric or remove the fabric original color.
Whose product is it?
FLEX is a 100% our product whose unique formula was developed in our laboratories and protected.
Is it just for white stuff?
Not! FLEX is equally effective on both white and colored materials!
Does it "really work"?
Take a look at the records of our users and see for yourself the effect of Flex Cleaner. However, you will get the best answer when you order a product and see with your own eyes how the stain disappears in just a few minutes.
Does it remove the old stains?
Old stains which have not been treated with other stain removers will in most cases be removed after one or more FLEX treatments.
What is its chemical composition?
FLEX is a 100% natural product completely harmless to the environment, people and animals.
Does it have a shelf life?
18 months from the date of manufacture indicated on the package.
Flex Cleaner – our stain remover was awarded for the best innovative product for catering and hospitality in 2018, and recently won the title of Environmental Guard at the ECO Conference Environment – World Capital.
Flex Cleaner became a real hit at the 2019 Organic & Natural Products Expo in Dubai, so it quickly began to be exported worldwide. Here's what it looked like: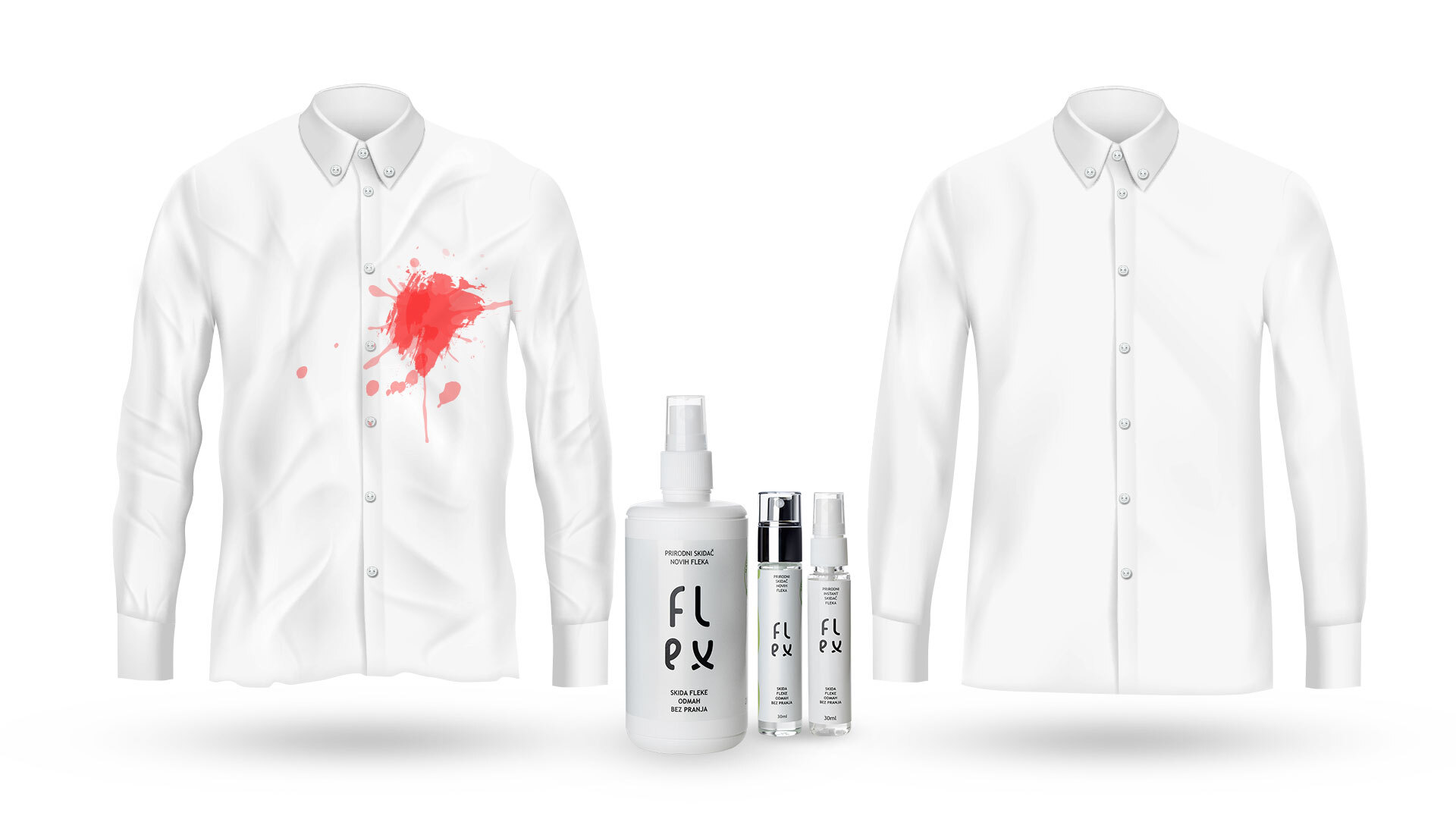 Flex Cleaner: Removes all stains except those from the bad behaviour
You can apply it to all types of fabrics (clothes, furniture, car).
No washing - Wipe the stain and resume daily activities.
A completely natural product - It can also be used by children.
Convenient packaging for every occasion - It's always at hand whenever you need it.
Don't think about stains
in the next year
Order Flex Cleaner
And here is what our happy users say:
I've been searching up long time a go for similar product. It's natural and it's work! I am so happy because of the Flex!
I was lucky that the waiter at the restaurant had a bottle of Flex. He saved me an extremely expensive shirt. Thank you so much!
Flex is always in my pocket!
The child has the right to get dirty, but the stain has no right to destroy the child's favorite clothes
Happy mummy sent us photos as a sign of gratitude. She is no longer annoyed about stains when her little ones get dirty because removing stains is fun and easy:
Put a bottle of Flex Cleaner in your child's backpack and you don't have to worry about him coming back stained.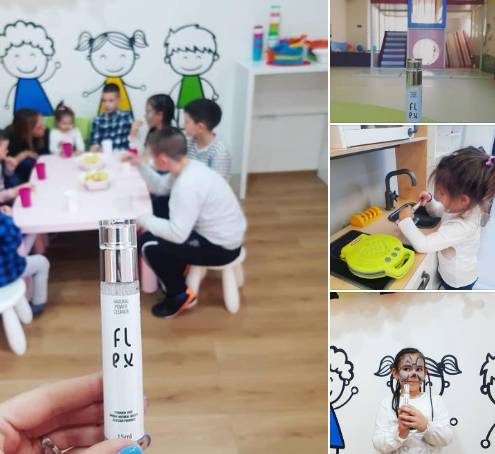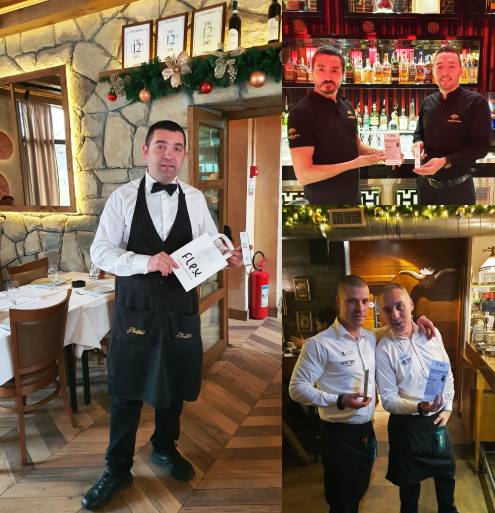 Many hotels and restaurants use the Flex Cleaner including Hyatt Regency and Buddha-Bar.
Removing stains has become fun even for those who find it everyday with a large HoReCa package for hotels and restaurants. The waiters of famous Belgrade cafes and restaurants have shown us what it looks like from their perspective. Now they have more time for their guests and they often get an additional tip because they save the situation when the guest is smeared with wine or food. Nobody likes to sit stained in a restaurant, right?
Become our distributor
Our vision is the FLEX product become a globally recognizable brand as a synonym for stain removal.
Flex Cleaner is available in Serbian and foreign markets (Serbia, Macedonia, Bosnia and Herzegovina, Switzerland, United Arab Emirates…), but the great interest in this product is causing the markets to expand, so we will soon be available in many other countries as well.
Contact us with your suggestions for possible cooperation
Smaller or

larger

packaging

close to your hand
The small packaging of Flex Cleaner is suitable for a car or a lady purse, and the bottle is specially designed so that it looks like a perfume and you can discreetly apply it to clothes, which is a great solution for special occasions.
With a small package, you can remove as many as 100 stains and larger ones of 200 milliliters will remove up to 500 stains.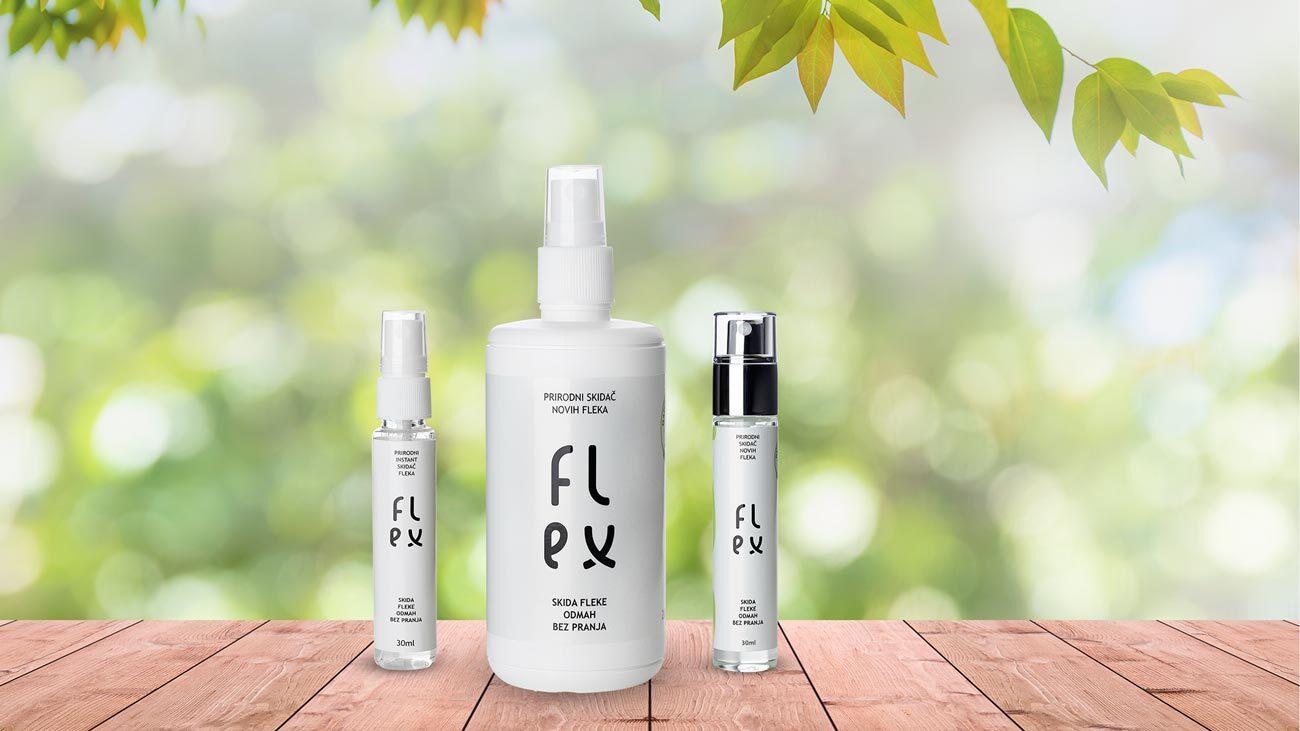 QUICK ORDER

Please enter your phone number in the field below and our operator will call you shortly
Smile or stress:
You choose!

We often try to remove stains in different ways.
And then the following scenario happens: Bleach brightens the fabric. The stain just becomes a strange color. The clothes are completely unusable.
Flex Cleaner is a patented product that will make your favorite clothes last a long time
We can't avoid the stain, but we shouldn't be nervous about it.
When Flex Cleaner becomes an integral part of your life, such awkward situations will make you smile and become an anecdote that will be retold for a long time. Order your packaging now and let the stains of coffee, wine or oil become a thing of the past.